Adam's Holistic Healthcare
Welcome! I am Adam Buttery and I have been providing affordable complementary therapies in the Farnham, Guildford, Camberley, Farnborough and Aldershot area for over 15 years.
The clinic is open for all treatments such as Bowen Technique, EFT, Reiki and Massage.
I help people to start enjoying their lives again by treating the pain, movement problems or stress that is holding them back in life. I work with all ages, from new-born babies to the elderly.
I'm not just here for the 'bad' things in life though – I offer nice relaxing Reiki and massage treatments too. I try to put the 'treat' back into 'treatment'! 
I am also an Usui Reiki Master Teacher, so if you have been thinking of learning Reiki for yourself, please get in touch to find out more.
I look forward to seeing you in my lovely clinic in a converted 16th century barn on the edge of Farnham town centre.
Contact me now for a free chat about your specific problems.
Long-Term Pain & Mobility Issues?
My Complimentary Therapies Include...
Bowen Technique
Gentle rolling movements of fingers and thumbs trigger muscles to relax, and your mind follows. This helps bring deep sleep, allowing your body to heal and repair itself.
Reiki Energy Work
Stress and pain literally feel like they're melting away. Any underlying tension clears very rapidly and you can feel the difference within minutes.
Relaxation Massage
Soft, soothing strokes, some relaxing essential oils and gentle music soothe mind, body and soul. Massage has been around for thousands of years - because it works!
Emotional Freedom Technique
Also known as EFT, or simply 'tapping', this was originally developed to help with long term conditions such as PTSD. It has since been found to help with all kinds of conditions.
Chair Massage
Chair Massage is fast and effective. It has been shown to increase concentration & clarity of mind, and decrease stress, fatigue & the effects of various RSI problems.
Relaxation massage dates back thousands of years. Gentle techniques help the muscles let go of their tension and resume their proper length. This helps regain strength, restore movement, and promote mental relaxation.
Bowen Technique was developed in Australia during the 1960's and 70's by a man named Tom Bowen. From his observations he developed a system of soft tissue manipulations which is able to treat the large majority of problems.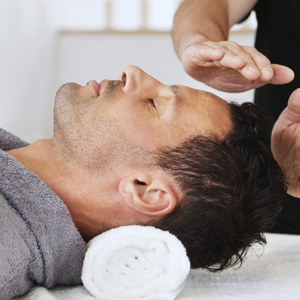 The name 'Reiki' means 'universal life energy' and is a form of energy 'healing'. The therapist uses it to boost the body's energy centres (like small batteries). This can restore health where medications and other therapies can't help.
Emotional Freedom Technique
Emotional Freedom Technique  dot dot dot problems.
WANT TO MAKE A BOOKING OR HAVE A QUESTION?
If you would like to arrange any treatments or discuss your symptoms contact me now.
Call me on 01252 596678
What are you waiting for...
Book Your Initial Free Consultation
Contact Me:
Please send me a message using this form or:
Telephone: 01252 596678
Mobile: 07906 757452

Clinic: Farnham Natural Therapies
Alexandra House, 1 Waverley Lane
Farnham, GU9 8BB